2016 Statistics
The SPCA of Anne Arundel County is pleased to report a live release rate of 99%.
Surgeries - Shelter
Shelter
Adult canine spay
233
Adult canine neuter
262
Juvenile canine spay
41
Juvenile canine neuter
32
Adult feline spay
212
Adult feline neuter
155
Juvenile feline spay
966
Juvenile feline neuter
181
Surgeries - Public
Adult canine spay
270
Adult canine neuter
308
Juvenile canine spay
29
Juvenile canine neuter
14
Adult feline spay
147
Adult feline neuter
165
Juvenile feline spay
29
Juvenile feline neuter
53
Beginning Dog Count
77
Beginning Cat Count
197
Beginning Other Count
36
Public Surrender
1216
Return
233
Transfer In
502
Other
7
Total Live Intake
1958
Adopted
1977
Transfer Out
132
RTO
43
Euthanasia
17
Died in Care
27
MIA
Total Outcome
2196
End Dog Count
109
End Cat Count
230
End Other Count
26
Total Live Release Rate
99%
Total live release rate is calculated by dividing total live release by the sum of total live release and total euthanasia
Pet owners are invited to keep their pets happy and healthy by joining the SPCA of Anne Arundel County at the Vaccine Clinic, hosted monthly on the 3rd Saturday from 9am until 11am at the SPCA's Spay & Neuter Clinic located at 1815 Bay Ridge Avenue in Annapolis.

***For the safety of your pet, all cats must be in carriers and all dogs must be leashed.***

Vaccinations available at the clinic include:
$5 Rabies (1 year)*
$10 Canine Distemper Vaccine (DAPP)
$10 Canine Leptospirosis Vaccine
$10 Feline Distemper Vaccine (FVRCP)
$10 Canine Bordetella
$25 Microchip

*Dogs and cats 4 months and older must be vaccinated against rabies. If declining rabies vaccine, please provide written proof of vaccination.
No Appointment Needed!

Upcoming Dates:
Saturday, 21 October 2017
Saturday, 18 November 2017
Saturday, 16 December 2017
Saturday, 20 January 2018
Saturday, 17 February 2018
Saturday, 17 March 2018
Saturday, 21 April 2018
Saturday, 19 May 2018
Saturday, 23 June 2018
Saturday, 21 July 2018
Saturday, 18 August 2018
Saturday, 22 September 2018
Did you know? We are part of Pets for Patriots - a program that helps veterans adopt a new pet friend while giving the most overlooked shelter animals hope and a home.
We'll outline some of the program benefits and requirements and provide some relevant links, but if you have questions about the program it's best to contact Pets for Patriots directly.
Eligible Pets
This program is available for animals that meet one (1) of the following criteria:
- Dog or cat, two years or older
- Special needs dog or cat, of any age
- Dog or cat homeless for 6 months or more
- Large dog (40+ pounds at the time of adoption), of any age
Program Benefits
The Pets for Patriots offers a number of benefits beyond the "adoption special" which, for our shelter, is the waived fee for eligible pets. This includes after adopting, the veterinary partners offer a minimum ongoing 10% fee discount for pets adopted through the program. There is also a one-time $150 contribution via e-gift card to a major pet retailer upon eligible pet adoption, to be used for food, medications, supplies and other essentials.
More details: https://petsforpatriots.org/adopt-a-pet/veteran-benefits/
Location Requirements
"Veteran applicants are required to live within 40 driving miles of an existing Pets for Patriots shelter/rescue partner and 15 driving miles of a Pets for Patriots veterinary partner. Individuals who live marginally beyond either requirement are asked not to apply, but to contact us to request a location exception, which are reviewed on a case-by-case basis."
Proof of Service
The program requires proof of service and some limitations apply.
More details: https://petsforpatriots.org/adopt-a-pet/proof-of-service/
To obtain a Pets for Patriots approval letter and learn more about the program, please visit: https://petsforpatriots.org/adopt-a-pet/how-it-works/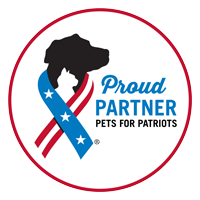 Once you receive a Pets for Patriots approval letter, please bring it to the shelter. Our regular adoption process still applies.